Description
Beautiful Irish Tweed from Donegal in Ireland.
The colour and classic tweed look, with all the strength and long lasting qualities of a cold weather tweed.
Comes in hand wound 50 gm balls.
70% Merino 30% Mohair blend.
A luxurious blend of Merino Lambswool and Mohair, creating a truly unique combination of colour, weightless volume and soft handle in a Donegal yarn.
50g ball (~110m)
Suits 4.00mm – 4.50mm Needles.
Also available on cones – please email us for price and further information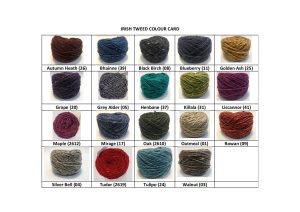 NOTE: We only carry small quantities of this yarn, and may have to source from our warehouse, please allow addtitional time for delivery