Description
Crochet Baby to 6 years Popcorn Style Cardigan Yarn and Pattern Kit
Easy crochet baby or child cardigan in a variety of colours. 
Made in 100% organic cotton yarn, safe and gentle on babies skin including premi bubs!
Includes easy to follow pattern in UK/AUS terminoloy.
Finished chest circumference: 51 (56, 58.5, 61, 66, 71) cms
Kit Contents
50g balls of Yarn Cllub 100% Organic Cotton in quantities listed per size below and crochet E-Pattern
Size 51 – 56cm = 3 x 50g balls
Size 58.5 – 61cm = 4 x 50g balls
Size 66 – 71cm = 5 x 50g balls
Yarn quantities based on average crocheters
Hook and Extras (not included in kit):
6.00mm crochet hook, 5 – 7 x 15mm to 20mm buttons, ruler, tapestry needle, sewing, needle and matching thread for buttons.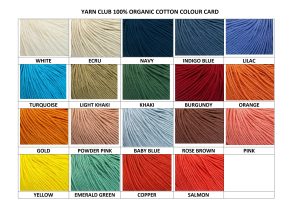 Yarn Information:
100% Certified Organic Cotton 8ply DK Yarn
GOTS-Certified Product. CUC-TR-017 PRJ 805332/918191
Environmentally friendly organic soft cotton 8ply yarn.
Soft and gentle and safe for all babies including premi bubs.
Hypoallergenic yarn
Organic soft cotton for garments, home décor, accessories and for spring/summer knitting and crochet.
Weight: 50grams, Length: 115 metres
Needle Size: 4 – 5 mm.
Gauge: 18 stitches and 24 rows on 10 cm x 10 cm
Care Instructions: Do not Bleach, Warm Iron Dry Clean/handwash gently, Dry flat in shade
What is GOTS?
Global Organic Textile Standard (GOTS) is the world's leading textile processing standard for organic fibers, including ecological and social criteria, backed by independent certification of the entire textile supply chain. The aim of the standard is to define globally recognized requirements that ensure the organic status of textiles, from harvesting of the raw materials through environmentally and socially responsible manufacturing all the way to labeling in order to provide credible assurance to the end consumer. Textile processors and manufacturers should be able to export their organic fabrics and garments with one certification accepted in all major markets.
The consensus of the International Working Group was that a clear and unambiguous understanding of the content required the Global Organic Textile Standard itself to focus on compulsory criteria only. The standard covers the processing, manufacturing, packaging, labeling, trading and distribution of all textiles made from at least 70% certified organic natural fibers. The final products may include but are not limited to: fibre products, yarns, fabrics, clothes and home textiles.