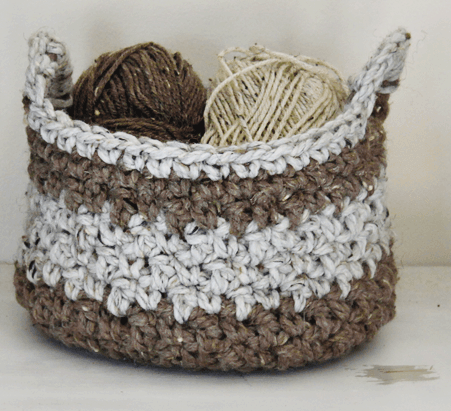 Skill Level: Easy
Materials
95 metres of 14 ply yarn – such as Birch Coolum or other super bulky 6 yarns.
Size N crochet hook 9.00 mm
Scissors
Yarn Needle
Crochet Terms
dc = double crochet
tr = treble crochet
ch = chain
sl st = slip stitch
Finished size = 10″ x 10″ & 8″ high (with handles)
Instructions
Round 1:  Make a magic circle and 10 tr in circle, sl st to top of first tr. (10)
Round 2: ch 3,  2 tr in every tr around, sl st to top of first tr. (20)
Round 3: ch 3,  *2 tr  in first st, 2 tr* rpt around, sl st to top of first tr. (work should measure 7″ x 7″ after this round) (40)
Round 4:  ch 3, starting in first st *tr, dc in next st, repeat from * around. sl st to top of first tr. (40)
Round 5: ch 1, starting in first st *dc, tr in next st, repeat from * around, sl st to top of first dc. (40)
Round 6: repeat round 4 starting with the ch 3. (40)
Round 7: repeat round 5. (40)
Round 8: repeat round 4 starting with the ch 3. (40)
Round 9:  repeat round 5. (40)
Round 10: repeat round 4. (40)
Round 11: ch 1, starting in first st dc, dc in next 8 st's, ch 8 (handle), sk 3 st's, sl st in next st, dc in next 15 st's, ch 8 (handle), sk 3 st's, sl st in next st, dc in next 8 st's, sl st to top of first dc. (40)
Round 12:  ch 1, starting in first st dc, dc in next 8 st's, 8 dc in the ch 8 space (handle) from previous round, dc in next 15 st's, 8 dc in the ch 8 space (handle) from previous round, dc in next 8 st's, sl st to top of first dc. (40)
Finishing
To finish up just weave in the loose ends with a yarn needle and fasten off.
Want a Sturdier Basket?
A tighter tension will help to make it stand up nicely or working with two skeins of yarn at once and work the pattern as written.
Another great technique is to crochet past the suggested round 9. Repeat Round 9 nine more time and then fold it down inside the basket to make the sides stay firm. This technique will omit the handles but your basket will be much stronger.