Description
Easy Crochet Lacy Mittens Kit
Can make up to 2 x pairs of mittens by alternating main and contast colours.
Mittens use less than 50 grams of Baby Supremo per pair.
Size: The pattern and yarn used in these mittens makes them suitable for small to large size Ladies hands.
Lightweight Lacy crochet mittens Kit
Easy and quick Crochet Project.
Make for youself or family and friends.
Great Gift Idea for Christmas or birthdays or other gifting occassion.
Mittens are made sideways and seamed, the thumb is worked in the round.
Kit contains
2 x 50g ball Baby Supremo in your choice of main and contrast colours and E-Pattern.
You will also need a 3.50mm crochet hook and yarn needle (not included in kit)
NOTE: These mittens use less than 50grams of yarn, meaning this kit will make 2 x pairs of mittens by swapping the main and contrast colours.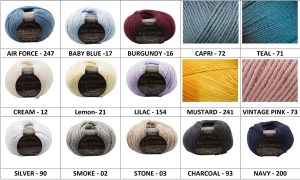 100% Merino wool.
This luxurious merino wool creates a unique soft and light handle.
Creates knitting designs for babies and adults, giving a beautiful drape.
50g ball (~200m) Fingering / 4ply
Suits 3.25mm – 3.75mm Needles.